Xiaomi MI A1 Kernel Sources Finally Publicly Released But There Is A Catch!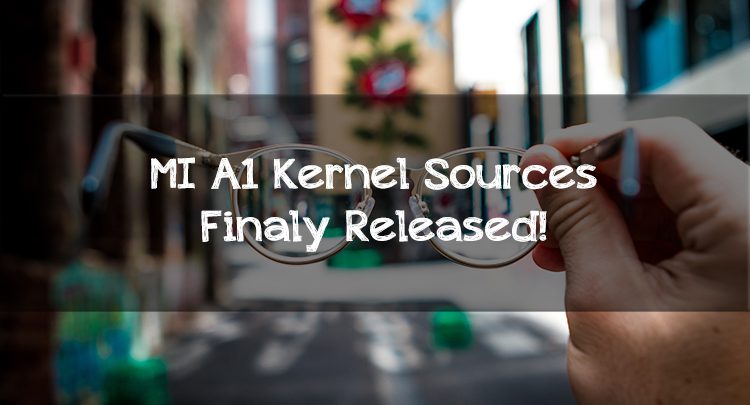 Hello friends,
I have a good news for you all! After a very long period of time, Xiaomi finally released the kernel sources for Xiaomi Mi A1 but there is a catch! Let's discuss it.
Xiaomi is known for there budget phones and there MIUI Rom and they released there first Android One device Mi A1 But even after 4 Mounts launching the phone they did not release kernel sources for this particular device till now.  Considering Mi A1 is an Android one device, We should seeing quick android version updates as they get released, But it didn't happen. And the worst thing is the initial Oreo Builds of MI A1 were filled with too many Bugs that they had to pause pushing updates for a certain period. And the forgotten aspect of the device is the Kernel sources.
For any device as the  GPLv2 license of the Linux Kernel, It is mandatory for any Manufacturers to make the Kernel Sources Public, Mi A1 is no exception to it. However, Xiaomi didn't release the kernel sources even after 4 mounts when the device is first released. But after long waiting, the Kernel sources are finally here But there is a catch! Some of the Android ROM Developers are tweeted that the Kernel Sources if for Android 7.1.2 while  MI A1 is currently running on Android Oreo. As I am not an Android ROM Developer, I cant verify it myself. Xiaomi Didn't Yet Release The Sources for  Android Oreo or 8.0. But surely It is better than Nothing.
You might be wondering why the kernel sources matters? Just in case. Actually, the official Kernel sources help Community developers to build bug-free and more stable custom ROMs with tons of unique features for our device. Without the official Kernel Sources, it would be very hard for Community developers to build Stable Custom Roms.
Better Late Than Never! Finally, the company released the sources for MI A1 which preventing ROMS developers from developing ROMS for MI A1. What Do you think about it? Comment below.